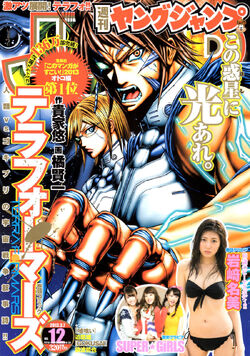 Weekly Young Jump (週刊ヤングジャンプ, Shūkan Yangu Janpu), launched in 1979, is a weekly Japanese magazine that publishes various seinen manga in each issue. It is published by Shueisha under the Jump line of magazines. The chapters of series that run in Weekly Young Jump are collected and published in tankōbon volumes under the "Young Jump Comics" imprint every four months. The manga series within the magazine target mature male readers and tend to consist of a large amount of violence and a fair amount of ecchi and gambling.
Weekly Young Jump has a two special issues, called Miracle Jump (serializing monthly) and Aoharu (serializing irregurlarly).
List of current manga
[
]
Effective as of March 2014.
81 Diver (ハチワンダイバー)
All You Need Is Kill (オール ユー ニード イズ キル)
Barcelona no Taiyō (バルセロナの太陽)
Beshsari Gurashi (べしゃり暮らし)
Boku Girl (ボクガール)
Cyclops Shōjo Saipūū (サイクロプス少女さいぷ〜)
Destroy and Revolution (デストロイ アンド レボリューション)
Gokukoku no Brynhildr (極黒のブリュンヒルデ)
Grand Slam (グランドスラム)
Gunjō Senki (群青戦記 グンジョーセンキ)
Hamatora (ハマトラ)
Hibi Rock (日々ロック)
Himōto! Umaru-chan (干物妹!うまるちゃん)
Innocent (イノサン)
Kakuriyo Monogatari (かくりよものがたり?)
Kamen Teacher Black (仮面ティーチャーBLACK)
Kimi wa Midara na Boku no Joō (君は淫らな僕の女王)
Kingdom (キングダム)
Liar Game (ライアーゲーム)
Minamoto-kun Monogatari (源君物語)
Mongrel (モングレル)
Nejimaki Kagyū (ねじまきカギュー)
Papa no Iukoto o Kikinasai!〜Rojō Kansatsu Kenkyū Nisshi〜 (パパのいうことを聞きなさい!〜路上観察研究日誌〜)
Real (リアル)
Samurai Soldier (サムライソルジャー)
Terra Formars (テラフォーマーズ)
Tokyo Ghoul (東京喰種 -トーキョーグール-)
Usogui (嘘喰い)
Yokohama-sen Doppelgänger (横浜線ドッペルゲンガー)
Yōkai Shōjo -Monsga- (妖怪少女 -モンスガ-)
Zetman (ゼットマン)
Young Jump Covers
[
]
Featured Covers
[
]
Shows covers where Terra Formars was fully featured and not only in a small corner
Other Covers
[
]
Color Ads
[
]
External links
[
]